April 1, 2022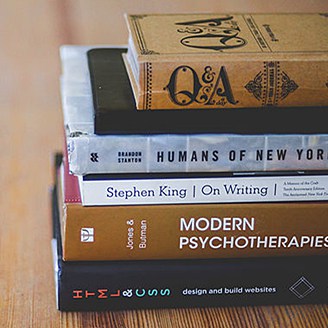 In my job, I see many books and media come and go, and I've found a lot that I enjoy in my personal life. These include psychology books and cookbooks, biographies, graphic novels, art books, etc. I use the cookbooks at home with my fiancee to learn about cooking and get ideas about meals we can make together. We are also interested in psychology, and I enjoy learning about the human mind and mental health.
Currently, I am reading a biography about musician Dave Grohl of the Foo Fighters. Titled The Storyteller, Grohl's book is inspirational and a great example of how someone can go from nothing to a rock star with determination and strength. He was living on friend's couches when he started his career, and now he's a fan favorite for many music lovers. Coincidentally, Grohl has been in the news since I've started reading his book. The Foo Fighters have a new movie in theaters, "Studio 666," and their drummer, Taylor Hawkins, tragically passed away on March 25.
The next book I would like to start reading – All Boys Aren't Blue by George Matthew Johnson – is on a banned book list. It's a coming-of-age story about being black and gay in America. I have compassion for other people and enjoy learning about an array of communities and cultures. I think it's essential to read every banned book and think about why it's banned. It's crucial to form our own opinions.
I am a photographer, and I enjoy reading and building skills from photography books at the library. It is convenient because I don't have to buy bulky books that would clutter up my home, but I can still enjoy them and share them with the community. I also rent movies that I cannot get online for special occasions like the holidays. For example, I rented the original "Little Shop of Horrors" for Halloween. I also know MPL has older Christmas films that are rarely on television.
I enjoy working at the Musser Public library and helping patrons find new knowledge, just as I like building my own. I highly recommend visiting public libraries because they are among the few places where people can gather and use free services.